+++++++++++++++++++++++++++++++++++++++++++++++++
Scottie's world today
++++++++++++++++++++++++++++++++++++++++++++++++++++++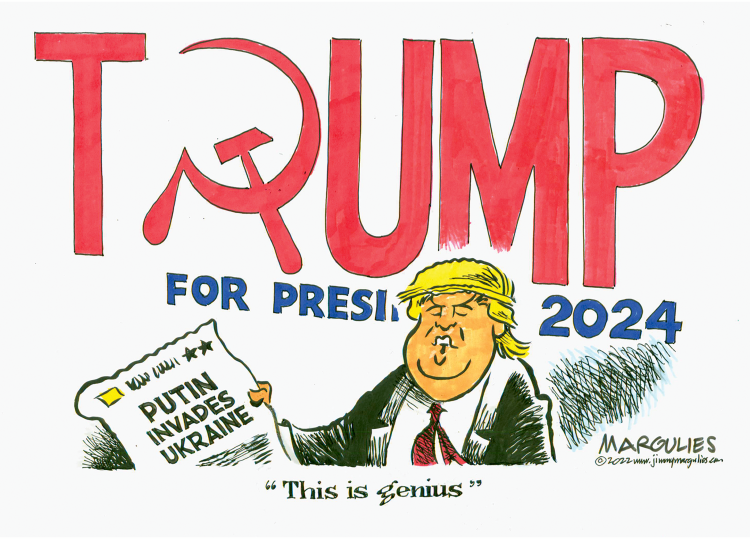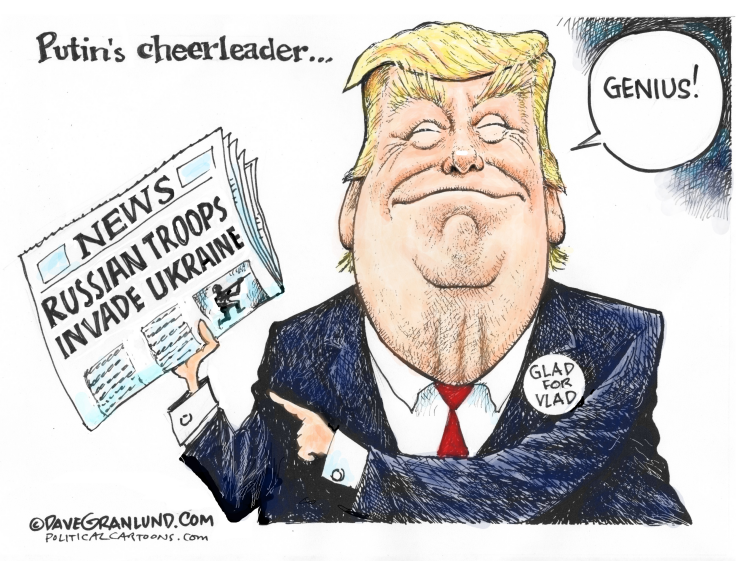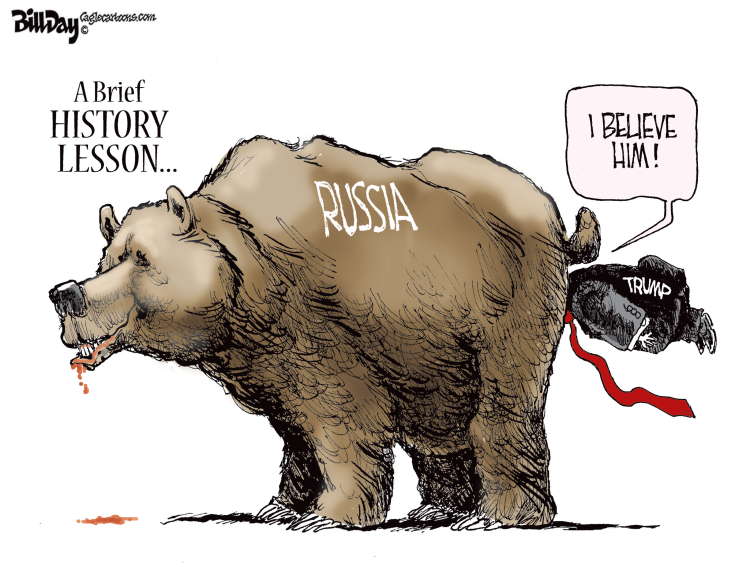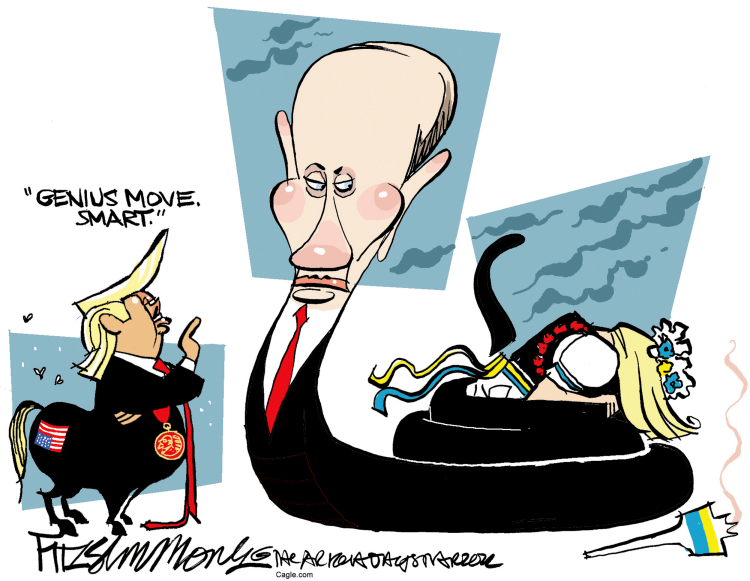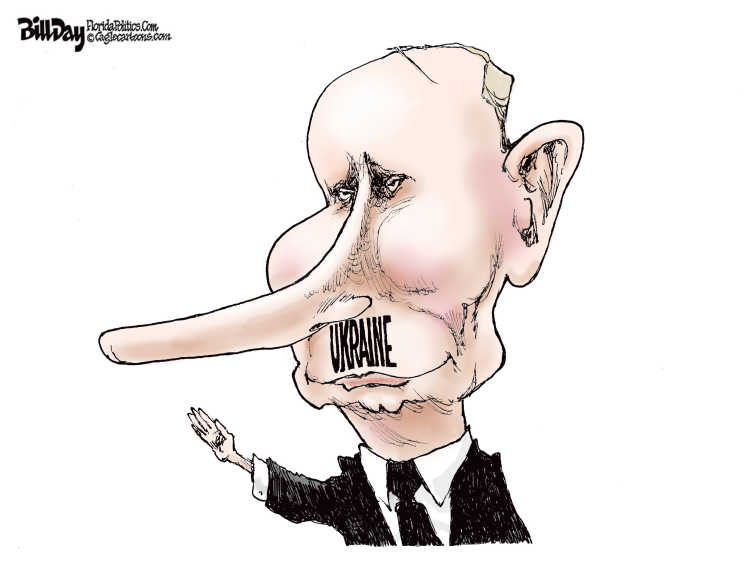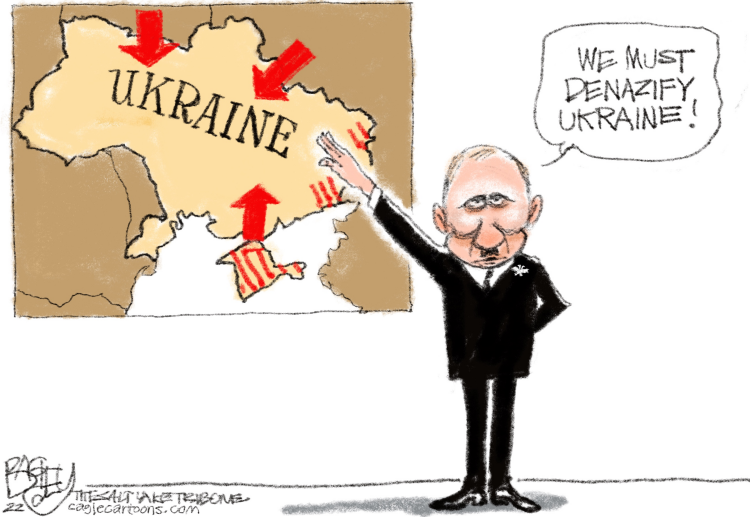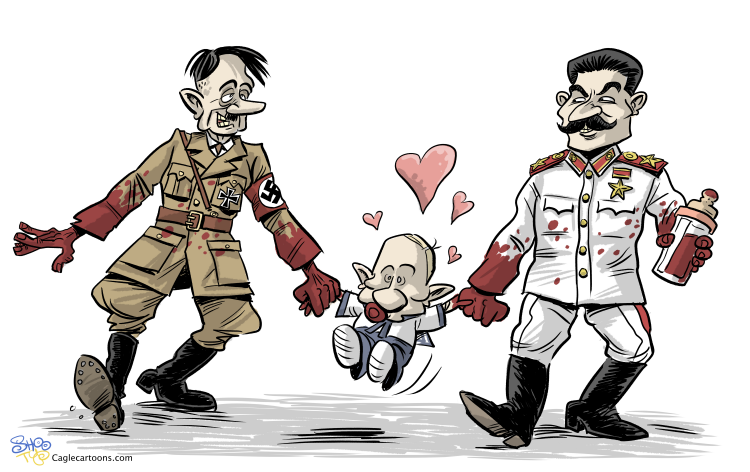 I just watched a verified video of a Russian tank swerve across the road to run over and sit on a car going the other way on the road.  The intent was clear to kill by crushing the people in the car.   It looks like the man survived.  But that is a war crime.  You do not target or try to kill civilians that are no threat to you.  You simply don't try to deliberately kill civilians.   The US and the nations must use everything we can to stand up to Putin.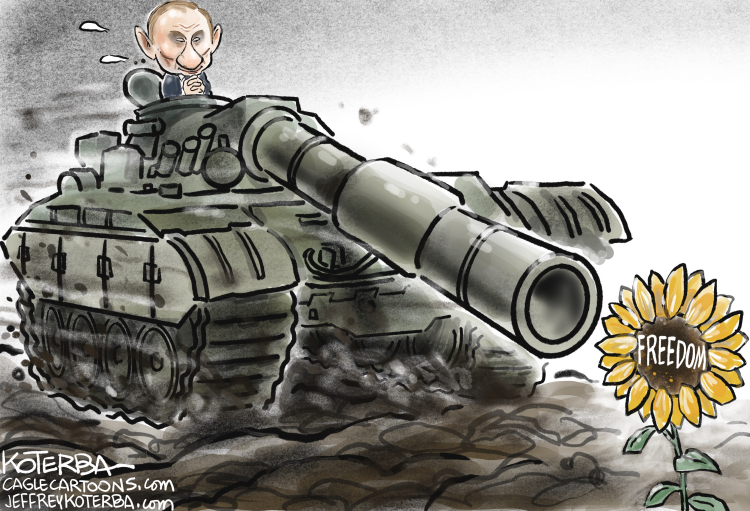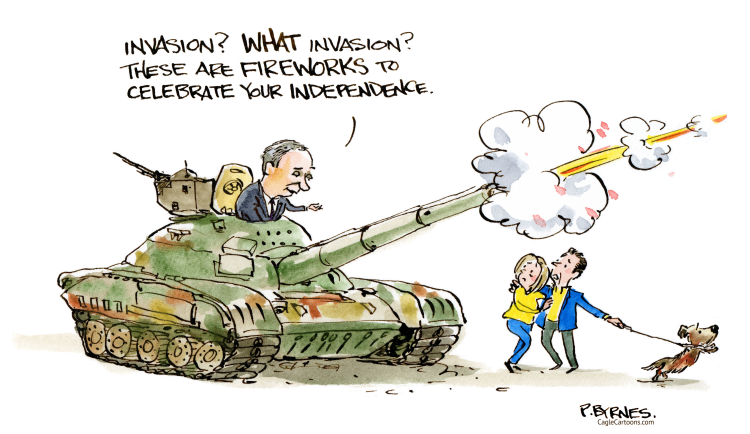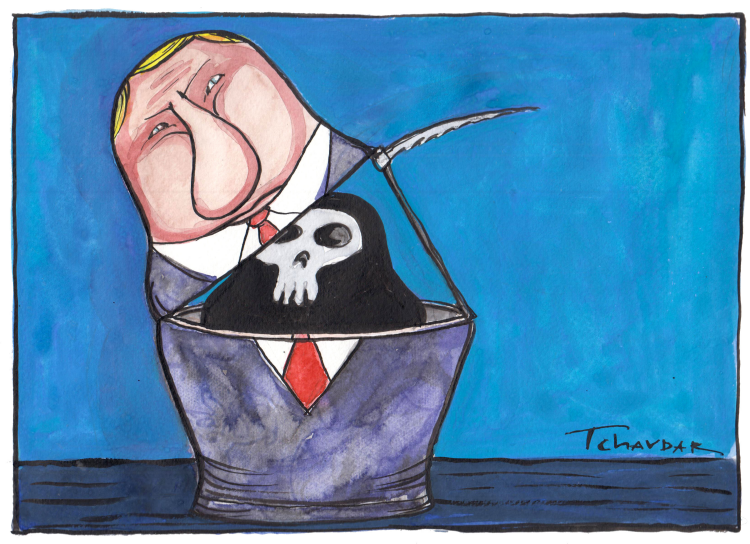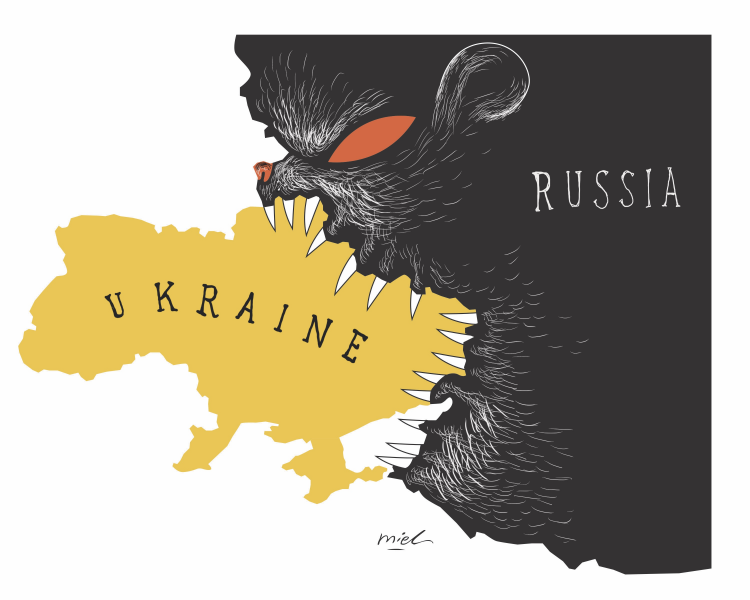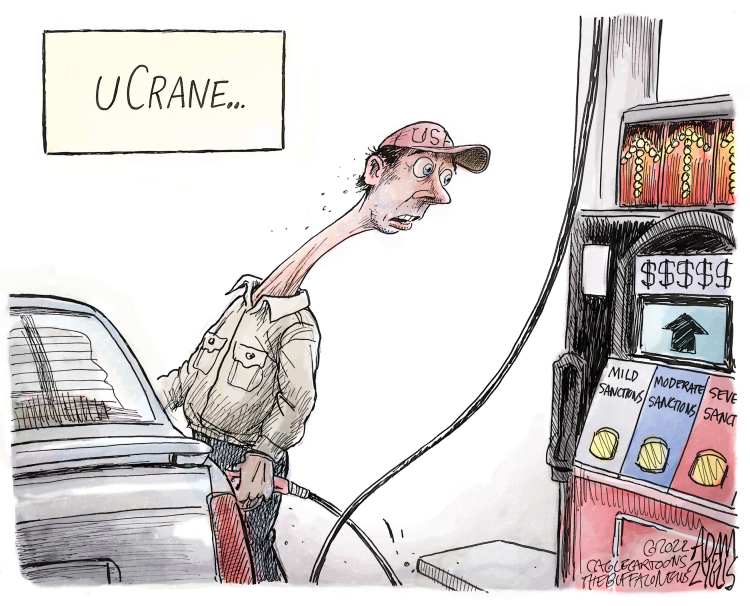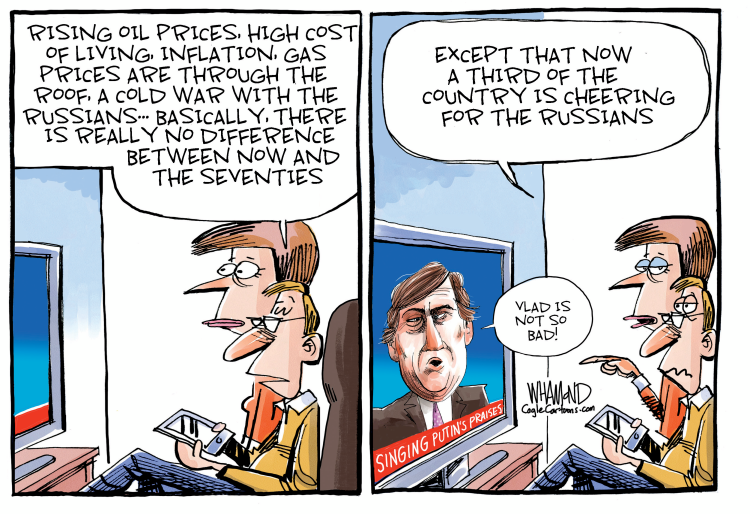 Gods this is like me arguing with the right wing cult members.  I can not count how many times I have been called evil for quoting facts. 
++++++++++++++++++++++++++++++++++++++++++++++++++
Misleading right wing media cartoons / memes
The pipeline wouldn't have helped the US oil situation at all.  If it was running they projected 75% of the oil was going to overseas markets, and 25% was to be charged as an import.   Meaning that when oil prices went up so would the oil in the pipeline and we still have to pay more.   For some reason the right acts like it is free oil given to us that Biden cancelled, it never was that. 
"US Senator Elizabeth Warren put the pieces together when Fed chair Jerome Powell appeared last month before the Senate Banking, Housing, and Urban Affairs Committee. Offering a lesson in what she referred to as "Econ 101," the senator from Massachusetts led Powell through a series of questions related to inflation.
"If you're a corporation that has eaten up most of the competition and cornered the market, is it easier for you to raise prices on your customers and maximize your profits because you don't have to worry about losing your business?" asked Warren.
Powell replied, "In principle, if you don't have competition and you're a monopolist, yes, you can raise your prices."
"Okay," Warren continued. "Over the past year, we know that prices have risen because of supply chain problems, unexpected shifts in the demand for goods, and even higher labor costs. But if corporations were simply passing along these costs in highly competitive markets, would the companies' profits margins have changed much?"
After mumbling something about varying factors that impact such calculations, Powell concluded, "But, in principle, you could be right."
With that answer in hand, the point was made:
Senator Warren: Well, it's very much not what we're seeing right now. Today, nearly two out of three of the biggest publicly traded corporations in the country are reporting fatter profit margins than they reported before the pandemic which doesn't sound like they're just passing along costs. So let me ask you: Does that increase in profit margins, combined with greater market concentration in industry after industry, suggest to you that some corporations may be passing along increased costs and, at the same time, charging more on top of that to fatten their profit margins?
Warren made the vital connection that all Democrats should be making as debates about the causes of inflation heat up. Instead of letting Wall Street apologists create the impression that inflation is simply the result of supply chain kinks and pent-up consumer demand after two years of pandemic lockdowns, and instead of letting Republicans suggest that federal and state investments in health care and housing are the problem, Democrats should be speaking like Warren. And like former Ohio state senator Nina Turner, a congressional candidate who declared Thursday:
It's not "inflation," it's price-gouging.Exxon and other Big Oil corporations are price-gouging us at the gas pump.Grocery chains are making record profits price-gouging us at the register.Corporations are bleeding working people dry. Enough.
https://www.thenation.com/article/politics/inflation-price-gouging/
In 2001, President George Bush issued a truly astounding appraisal of Vladimir Putin, the former KGB agent who has run Russia since replacing Boris Yeltsin in 1999. "I looked the man in the eye. I found him to be very straightforward and trustworthy. We had a very good dialogue. I was able to get a sense of his soul; a man deeply committed to his country and the best interests of his country."
Sure. Ukrainians are dying and you're complaining about this. That's your right, but it makes you look pretty self centered, don't you agree?   Maybe inflation would be better if your shithead POTUS Trump hadn't screwed up the economy with a trade war with China.   If you don't see the huge problem with Russia invading Ukraine, you have a problem
+++++++++++++++++++++++++++++++++++++++++++++++++
And now some for fun