This is what happens when red state republican governors, right wing media hosts, and religious hate preachers make wild untrue accusations and targe the LGBTQ+.  They put targets on the LGBTQ+ people and their organizations.    While the police have not released the full context of the notes, one phone shows a note blaming the LBTQ+ for " … holding get homosexual togethers for middle schoolers".   You know where that rhetoric comes from.   It energizes the maga thug base to commit act of violence against those the republican governors like DeathSantis claim harm kids.   About that harming kids, DeathSantis used taxpayer funds of hundreds of thousands of dollars to ship Venezuelan legal asylum seekers from Texas to Martha's Vineyard and one of those was a month old baby.    DeathSantis rants about saving kids by the don't say gay bills and tough abortion bills, but he did not care he was sending a one month old baby all across the country with no warning to those where they landed and no way the mother could get help.   Lucky the community there rallied to do they could for the asylum seekers that were being used as pawns and it really pissed the right wing off that the left was not assholes like the right is.    Hugs
Gainesville's ABC affiliate reports:

On Saturday morning, members of the Pride Community Center in Gainesville received a call from a real estate office in the same complex about their building being vandalized.

"She told me that she was just informed by somebody that came to her office that the pride center had been vandalized and that the windows were all smashed," said board member Debbie Lewis. "The reason it's being investigated as a hate crime is because of the notes that were left."

Members didn't want to share the messages due to the ongoing investigation and the community joined in helping board up the windows.

The Gainesville Sun reports:

The attack came just weeks before the highly anticipated return of the Gainesville Pride Festival on Oct. 22, which was canceled in 2020 and 2021 due to the pandemic. Those who showed up at the center helped clean the mess left behind, sweeping up glass and rocks.

"Later I will be angry about this vicious hate crime but right now I'm incredibly sad for every vulnerable person in my community," County Commission candidate Mary Alford said, adding that she faults some elected Republicans who have shared anti-LGBTQ rhetoric.

 
For me, the hate that has been generated by the likes of DeSantis, Trump, Abbott, Youngkin, Green and their likes has turned into sadness for our country and her citizens. I cannot understand what is going on anymore and why citizens cannot have some peace and reprieve from Republicans.
Kristallnacht 2.0 begins.
Kristallnacht, Florida Jesus approved.
heleninedinburgh Bilderbeck • 28 minutes ago
Beginning to understand how the Nazis did it now.
Just ordinary people, thinking it's their civic duty to do what the government tells them, and if it aligns with their own prejudices even better.
pansarkraft heleninedinburgh • 21 minutes ago
And the press reinforces it
Yves R. Mektin • 39 minutes ago
Florida is really getting frightening.
My Lyft driver on Friday that took me home from the airport was brand new here in Palm Springs, just arrived from Fort Lauderdale 2 months ago, with the cutest little dog who slept in the front seat. I welcomed him to California and gave him a big tip.
TnCTampa Yves R. Mektin • 37 minutes ago
God I wish I could afford to get out. if i had the money I would be gone. The place is a human cess pool and getting worse by the minute. But alas Im poor, all my friends live here, have dogs and cats so its hard to leave right now.
JoeMyGodMod • 40 minutes ago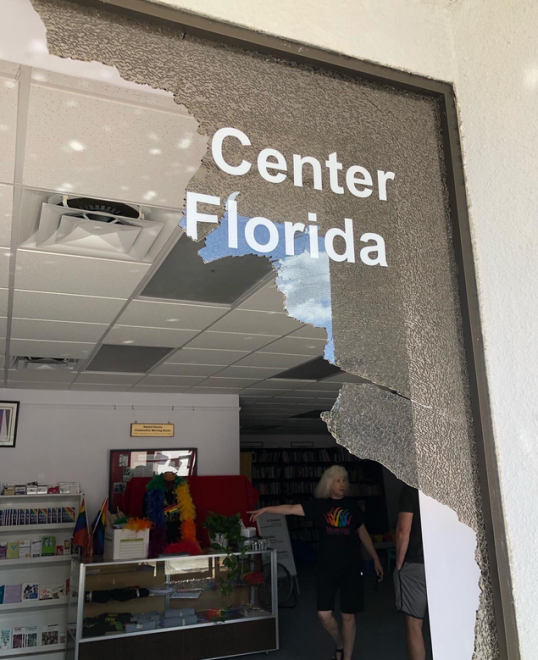 The work of homophobic Nazi monsters Drumpf and DeathSantis.