https://www.politifact.com/factchecks/2022/feb/21/jd-vance/jd-vance-says-transgender-rights-drives-looming-co/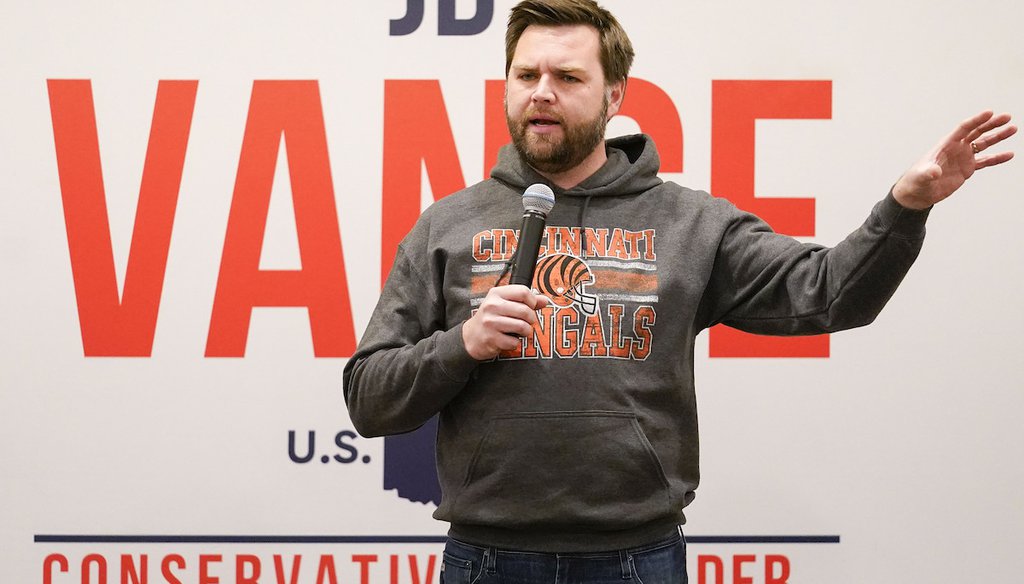 JD Vance says transgender rights drives looming conflict in Ukraine

IF YOUR TIME IS SHORT

Ohio Senate candidate JD Vance said the State Department's focus on transgender rights is inflaming the conflict with Russia in Ukraine.

Russia has placed as many as 150,000 troops near Ukraine's borders.

Russia has said Ukraine's ties to NATO are a key threat to Russia's national security.

 

 

As the prospect of a ground war hangs over Ukraine, Ohio Senate hopeful JD Vance said he doesn't "really care what happens to Ukraine, one way or the other."

Speaking to former Trump adviser Steve Bannon, Vance, a Marine veteran, said there's no reason for U.S. military intervention.

"We didn't not serve in the Marine Corps to go and fight Vladimir Putin because he didn't believe in transgender rights," Vance said Feb. 19. "Which is what the U.S. State Department is saying is a major problem with Russia."

Vance went on to say he is "sick of Joe Biden focusing" on Ukraine at the expense of dealing with problems on the border with Mexico.

Whatever the troubles on America's southern border, Russia's transgender policies are not affecting the current tensions in Ukraine.

The U.S. and its NATO allies estimate that since last spring, Russia has moved as many as 150,000 troops within striking distance of Ukraine's borders. 

"That is by any means, by any estimate, a massive number of forces," State Department spokesman Ned Price said Feb. 16. "We also know that the Russians have capabilities when it comes to electronic warfare, when it comes to aerial capabilities, any number of tactics they could employ, whether on their own or together as part of a broader onslaught."

NATO Secretary General Jens Stoltenberg said a Russian attack could come at any moment, if Russia wanted.

"They have enough troops and enough capabilities to launch a full fledged invasion of Ukraine with very little or no warning time," Stoltenberg said Feb. 17. "That is what makes the situation so dangerous."

President Joe Biden has said the warnings of war are aimed at forestalling it.

"We're calling out Russia's plans loudly and repeatedly, not because we want a conflict, but because we're doing everything in our power to remove any reason that Russia may give to justify invading Ukraine and prevent them from moving," Biden said Feb. 18.

Europe hasn't seen sustained warfare on its turf since the breakup of the former Yugoslavia in the 1990s, and that didn't involve the prospect of Russian forces driving combat operations. With Ukraine, the potential scale of a military conflict is orders of magnitude bigger.