Understand this is about installing right wing propaganda as the preferred way of thinking at Florida schools.   If you read the article these quotes come from you see the issue is that the Republican majority took issue that education did not demand allegiance to the idea of the "Americans all ways right exceptionalism" and that crediting agencies stopped the Republican leaders from taking over the school.   On student talks of bring right wing media provocateurs to speak at the school now and got cheers.  I will put some quotes from that article first, then the main story from Joe my god.  
The measure, Senate Bill 7044, was signed a week after an "intellectual diversity" survey was sent out to all university staff, students and faculty. The survey, required in a bill approved last year, posed questions asking if students felt their professors used their platforms to inject their viewpoint and asked all about their political beliefs. The statewide faculty union called for a boycott of the survey and several faculty leaders expressed fear that it would chill free speech.
The bill signed Tuesday also took on accreditation agencies, requiring state universities to switch accreditors after each cycle. Some faculty leaders have expressed fears that the measure could cause Florida schools to lose research funds and federal student aid.

The provision stems from friction last year between some state leaders and the Southern Association of Colleges and Schools Commission on Colleges, the accrediting organization for universities in the Southeast. The group had raised questions about political influence at Florida State University and the University of Florida.

At FSU, the issue arose after education commissioner Richard Corcoran made a bid to become the university's president. Corcoran spoke at Tuesday's news conference in favor of the bill.
Tuesday's event also featured Taylor Walker, a conservative student from FSU majoring in history. She spoke of bringing conservative commentator Ben Shapiro to campus, sparking applause from residents at The Villages.

"As a conservative on a college campus, sometimes you have to face some hurdles," Walker said. "There still are some individuals out there who think woke narratives are the only narratives that should be taught on college campuses. As a history major, I can attest to that. As I go into my classes, my professors hold me to high standards, as they should. This bill gives me the opportunity to hold them to the same high standards that they should be held to."
Notice the idea pushed is that professors only teach left wing woke stuff.   Oh my god the right is so abused.   These are college age students and they had a choice to go to any school that supported their ideas but went to these schools because they taught an accredited higher education that the right doesn't agree with so they legislate that if the teaches teach that stuff they don't like they will fire the teachers.   The right doesn't want education they want indoctrination.   Repeat by rote how great the Republican autocrats authoritarians are!
Now from Joe my god.
The Tampa Bay Times reports:

Gov. Ron DeSantis on Tuesday signed a bill that makes it harder for faculty at state universities to retain tenure, framing the legislation as another way that he and the Legislature are working to prevent educators from bringing their political views into the classroom.

In a wide-ranging news conference at The Villages that took swings at Twitter and alleged that textbook publishers were peddling hidden agendas, DeSantis criticized what he called "lifetime appointments" for university professors.

"We need to make sure the faculty are held accountable and make sure they don't just have tenure forever without having any type of ways to hold them accountable or evaluate what they're doing," DeSantis said.

Read the full article.

 
DeathSantis must be trying to raise from the dead "Trump University" because that's how other colleges and university will view the education level of Florida students.
It's a continuum that we saw with Joe McCarthy and worse. Meet Trofim Lysenko.
https://en.wikipedia.org/wi…
Where are all the Cubans screaming about the danger of government tyranny on this one?
make sure they don't just have tenure forever without having any type of ways to hold them accountable or evaluate what they're doing
Please correct me if I'm wrong, but isn't the point of tenure to protect valued teachers' jobs from political grandstanding?
Florida is completely off the rails, even more so than Texas. We're witnessing the birth of a fascist state within the United States.
What, exactly, is the legal definition of "woke" in the bill, now a law?
Gregory In Seattle • an hour ago
No doubt, the intended long-term outcome is to force university professors seeking employment to avoid Florida, which will allow Republicans to shut down public higher education for lack of qualified teachers.
"Woke" will mean anything they want it to mean. So much for higher education.
"hold accountable" means "do what we want"
TrollopeReader Charles in Bloomington • an hour ago
He just wants to use the full force of his administration against the libs …and empower those who agree with him.
They've been warning us for decades that their goal is to destroy public education, including at the university level. They know it's their now-or-never chance to finally do it.
Yalma Cuder-Zicci • 2 hours ago
Number 11. Check.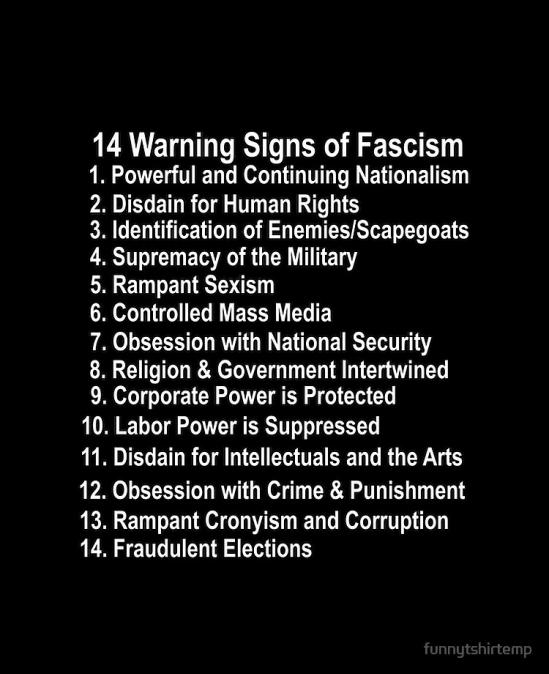 KarenAtFOH Stephen Elliot Phillips • an hour ago
The throat of our democracy has been cut. We're in the stage where the heart is frantically pumping life blood out onto the sidewalk.
Yalma Cuder-Zicci • 2 hours ago
When discussions turn to the rise of authoritarianism, crackdowns on the press or the judiciary are usually front and center. Equally under threat though, is academic freedom. In a healthy democracy, academics have the freedom to research, teach, and act as a corrective to societies, governments, and institutions, which are supposed to protect them.

Across the world, authoritarian leaders are targeting universities and professors to silence critical thinking and crush academic freedom. In Hungary, Turkey, Nicaragua and Mexico universities, academics and scientists, have come under attack from the authorities as governments try to restrict freedom of expression.