The Republicans know there is voter fraud because they are the ones doing it.   But even more important they are not even trying to hide it anymore.   One way or another they will kill our democracy and take over the government to establish minority rule of the Republican party.   
The Philadelphia Inquirer reports:

City elections officials last week received applications from more than three dozen Republican voters across a pocket of the neighborhood. Those applications requested that mail ballots be delivered not to the voters' homes, but to P.O. Box 54705, an address registered to a recently formed GOP political action committee, according to state data.

Many of those voters told The Inquirer they have no idea why their ballots were sent there. Some said they never even applied to vote by mail.

The ballots appear to be the effort of one man: Billy Lanzilotti, a 23-year-old GOP operative, South Philadelphia ward leader, and chairman of the Republican Registration Coalition, the PAC he registered at the P.O. box earlier this year.

Read the full article.

 
And there's your voter fraud.
the gqp believes voter fraud is so easy, any idiot could do it, yet they keep getting caught – they're not just any idiots, though, so there's that.
PhilBob13 northalabama • a day ago
I think because they don't understand how elections are actually run, and the fact that there are professionals working in the offices?
But sure, keep spreading sh** about how government doesn't work.
Dude's in the same ward, one precinct just north of me. I walk past his street on the way to the grocery store. One of his claims quoted in the article is known to be false: "There's been a number of problems with the post office lately," he said. "Checks are being stolen out of the mail.
No, the problem is a couple of the mail drop boxes have been broken into, so the USPS has asked that we drop off all mail at . . . the Castle Street Post Office.
Seems like the only ones committing election fraud are Republicans. But you won't hear that on Tucker Carlson.
B Snow PhilBob13 • 18 hours ago
I'm getting a ton of use out of this: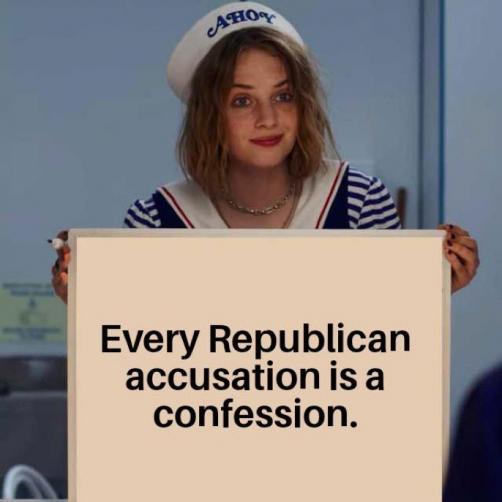 Geez, I wonder if anyone will even bother to wag their finger at him.
They believe that everyone does it, so they try. As if the people who run the elections haven't seen this kind of shit before…
현빈(🇰🇷Hyunbin🇺🇸)🥋🎹🎻 • a day ago
But definitely don't stop crying about voter fraud while committing voting fraud, Repubs.
Bob's Your Uncle – BYU • a day ago
All blue areas of swing and red states in particular need to be particularly mindful of scams like this one.
I'd like to see a penalty of a mandatory year in Federal prison for every stolen ballot be applied in the future, but that won't happen in my lifetime because too many conservative white grifters are treated like fucking royalty in red and purple states because they have found Jesus..