This candidate doesn't even pretend to hedge her belief in this.   Yet these same people in this same party are demanding these same teachers be armed to protect children even when the police cannot.   All so they can keep their gun fetish.   Because that is what it is if you reject common sense regulations, it is a fetish.   The Republican party is / has become the party of hate and disinformation.   These people think that teachers of the youngest grades are organizing gender swapping sex orgies.  In their minds little kids are being made to strip off all their clothing and notice in every story they are always little boys, and then instructed in sexual acts.  Some acts I doubt these Republicans really understand how they are done, maybe they should read up on it.  Oh wait, those books are banned now aren't they?   These people really think this is going on, when teachers are underpaid, cannot get enough instruction time as it is, and cannot even get supplies to teach normal subjects.    What did they read to give them this idea, the erotic fiction of Anne Rice?   Do they think the kids have Only Fan accounts?   Teachers have to be everything from mothers and nannies, to councilors, to instructors, mandatory reporters, child armed protectors, and so much more. 
 But beyond that what is the real point here?   It is to ridicule the idea that if little johnny asks if it is OK for boys to get married or even kiss the teacher says yes two boys can love each other and move on with the lesson plan.  If little Sally says someone has two mommies, the teachers say yes, some families are two mommies and move on with the lesson plan.    The teacher taught acceptance of alternative non-heterosexual lifestyles instead of screaming no, no, no never boys must only marry girls and only kiss girls or the great sky daddy will destroy the planet!  That is what terrifies the right and what they want to outlaw, so they have to make it as unpleasant and horrible as possible by changing it to the teacher telling the boys to line up, pull their pants down, and suck each other's dicks.   
The rabid right doesn't want tolerance of other ideas than their own extreme traditionalist religious ideas to be taught to kids.  They don't want kids to be taught that people can be of different religions and it is OK, that people can have different kinds of families and it is OK, that two boys or two girls can fall in love and it is OK.   That calling a person by a different pronoun is the right thing if they ask you to do so, and it is OK.    No, they demand we indoctrinate kids that an impossible global flood happened, that the earth is only 6 thousand years old despite the evidence, that god created a man and woman from dirt just as they are, magic is real and good when our god does it, and evil and bad when someone else's god does it or a human does it. 
They want their bible to be the new textbooks and their religion to be what all society and understanding to be based on.  Anything else is indoctrination and child abuse.  They are violent thugs that are willing to use threats and intimidation to get their way while claiming they are victims of cancel culture who are not allowed to get their racist bigoted hate speech out to the public.  I am done with these people and this party who have members sitting in congress spouting this stuff and refusing to disavow it.  They are the US Taliban!   Please watch the last video, it says it so much better than I can.   Hugs
"You can't just sit and say, 'Oh, that's terrible. Maybe somebody else will take care it. Oh, that's not so nice.' Well, I don't think it's so nice when they're telling your five year-old that he can go suck another five year-old's dick, do you? This is what they're doing!" – Rayla Campbell, GOP nominee for Massachusetts secretary of state, speaking at the state Republican convention.

Campbell first appeared on JMG in February when she led a group of QAnon nutjobs and anti-vaxxers in a protest outside a Boston hospital where an anti-vax man had been denied a heart transplant for refusing to get vaccinated.

Of note, some of her QAnon tweets that I included in that report have since been deleted. In the final video below, reporters debunk her insane claims.
No. No they are not. Liar.
Galvestonian ChipSF • 2 hours ago
Where the hell are they getting this shit ? An overactive deviants mind playing havoc with her mouth. If anyone is perverted it's people like her coming up with outrageous crap like that. Horrible, horrible person
Longpole Galvestonian • an hour ago
Its all a diversion from the crisis within the church.
Currently the SBC Is having to release all the names of the accused preachers and other church workers involved in sexual misconduct charges with minors.
What, me worry? • 3 hours ago • edited
And never an ounce of evidence that any of this is actually happening–BECAUSE IT ISN'T. I don't know what the answer is here, but hate speech and lies are not free speech. There needs to be consequences for this.
CaliJAB What, me worry? • an hour ago
Trump proved evidence is not required. Just repeat it often and STUPID people will believe it. Remember 80 is the AVERGE IQ.
A MA R State committee member resigned from a cemetery cmte after he said "Let's Go Brandon!" at their Memorial Day service.
JoeMyGodMod • 3 hours ago
Post to her campaign Facebook page.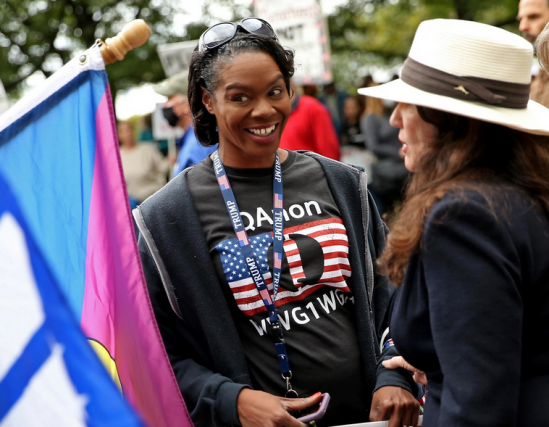 Shy Guy Adam Schmidt • 2 hours ago
It's their strawman argument they use to get the parents riled up to support their next 'Don't say gay' bill. They know it will get people angry, and that almost none of them will look into how true it is.