West Palm Beach's ABC News affiliate reports:

A Florida lawmaker plans to propose legislation that would punish parents who take their children to drag shows. State Rep. Anthony Sabatini, R-Howey-in-the-Hills, made the announcement in response to last weekend's Pride-themed event in West Palm Beach.

Sabatini, who is running for Congress, said he intends to draft legislation that would charge adults with a felony and "terminate the parental rights of any adult who brings a child to these perverted sex shows." He added, "When will the sexualization of children stop?"

Read the full article.

Earlier this week a Canadian teenager was arrested for threatening to carry out a terror attack on the above-cited Pride event.

Yesterday, Gov. Ron DeSantis declared that he supports criminalizing taking kids to drag shows, but he's not made any comment about the terrorism threat.

As I've mentioned here before, Sabatini is arguably the most extreme of Florida state reps, which is saying something.

Sabatini, 33, has suggested bringing AR-15s to confront Black Lives Matter protesters, a la Kyle Rittenhouse.

He's also filed over a dozen lawsuits against various COVID prevention protocols and filed a bill that would rename US 27 the "President Donald J. Trump Highway."

When an Orlando Sentinel reporter was assaulted while covering a 2019 Trump rally, Sabatini retweeted a news item about the incident with the word "MAGA."

Sabatini is running for Congress in Florida's redrawn 7th District, which is currently represented by retiring Democratic Rep. Stephanie Murphy.

Eleven Republicans, including Sabatini, are vying for the seat. Three relatively unknown Democrats are running in the August 28th primary.

 
KRinSF omi-palone • 2 hours ago
DeSantis mentioned using child endangerment laws against parents who take kids to drag shows. Those laws definitely should be used against parents who send kids to church.
2patricius2 omi-palone • 2 hours ago
With what I've seen some clergy wear, one would think they are trying to outdo drag queens. Except, drag queens have more style.
So parents have supreme rights over what their kids learn in school or read in the library, but no rights at all if it's something that offends the snowflakes. I assume you've got a state budget plan for taking care of all the kids whose parents have lost custody of them. What, you don't? Quelle surprise!
I'm sure some religious organization(s) will find a way to have the state pay for the children's care in their own facility.
OMG we watched Milton Berle as kids. Explains so much… I think I just carbon dated myself.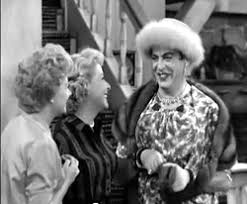 If he's worried about "men who wear makeup and who have a history of creeping on children", why is he proudly standing next to Trump?
Fellow homos, serious question: What is a Drag Sex Show? I have been living out and proud for nearly 35 years and the least sexual thing I have encountered in all of that time is a drag show. Plenty of show tunes and a good bit of comedy gold but there's more sex on television. And then there's Jazzercise!
Yalma Cuder-Zicci • 2 hours ago
And allowing kids to watch Bugs Bunny?
Bugs Bunny, an early example of a cross-dressing character, appeared in ladies garb or cross-dressed in at least 40 cartoons.
thatotherjean Yalma Cuder-Zicci • 2 hours ago • edited
Clearly, none of them remember Milton Berle, or even Trump and Rudy-in-drag. They just went straight for the stupid, which, if it's stupid enough, gets them press and name recognition..
JoeMyGodMod • 2 hours ago • edited
"In a high school photo, Sabatini and a friend were pictured in blackface. In his freshman year of college, he was photographed in brownface."