The violence by these right wing groups is getting worse.   It started with hate preachers, and now is a normal tool of intimation and fear caused by gang thugs who are the brownshirts of the Republican party.   We know how deep these groups were in the insurrection.   I have a fear that this is what is going to be the normal for the right to any they disagree with.  I also want to point out as I have before how traumatized these little kids must have been.  These were little kids.  As has happened before at other libraries and bookstores these little kids are being terrified by these angry men coming and screaming, yelling, angry, making threats and saying bad things.   Yet these gang thugs claim there are there to protect the children, the very kids they are scaring to death.    We had better take this seriously because this is a prelude to what will be happening at any event that displease the right, as we seen with school board meetings during Covid.  Right now red states are passing bills to have their armed, yes in some cases armed, supporters as poll workers to challenge voters of color or those they know are democrats.  This is not democracy.   History has shown us what happens if this is not stopped.    Hugs
San Francisco's CBS News affiliate reports:

The Alameda County Sheriff's Office is investigating a group of men who disrupted a drag queen storytelling event at the San Lorenzo Library Saturday with homophobic slurs.

The Alameda County Sheriff's Office said the incident occurred Saturday afternoon at around 1:30 p.m. at the San Lorenzo Library located on Paseo Grande.

Authorities said a group of men entered the library its "Drag Queen Story Time" event and made "homophobic and transphobic remarks against a member of the LGTBQ+ community who was hosting the event."

From the Alameda County Sheriff's Office:

When deputies arrived they learned a LGBTQ community member was hosting a reading event at the library called, "Drag Queen Story Hour." Present at the event were children, parents and other community members.

A group of men entered the library and disrupted the reading event. The men were described as members of the Proud Boys organization, known to be a right wing hate group with anti-LGBTQ affiliations.

The men began to shout homophobic and transphobic slurs at the event organizer. The men were described as extremely aggressive with a threatening violent demeanor causing people to fear for their safety.

Deputies responded to the scene and were able to de-escalate the situation. An active hate crime investigation is underway as is an investigation into the annoying and harassing of children.

ACSO will dedicate all resources to ensure the safety of members of our LGBTQ community. We will make sure any future events at the library are safe against hate speech and threats of violence.

As we celebrate Pride Month, we will be swift in our response to any incidents where there are threats to harm members of this community.

Image above via Google Street View. The Proud Boys may have been alerted to the event thanks to a tweet from the anti-LGBTQ account, LibsOfTikTok.
Judas Peckerwood • an hour ago
The Brownshirts are officially on the march.
JoeMyGodMod • an hour ago
LibsOfTikTok is going to get somebody killed.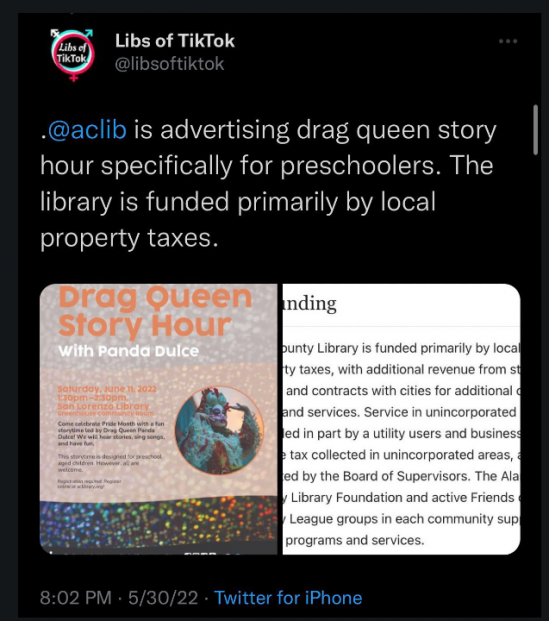 Franciscan JoeMyGod • 31 minutes ago
They also apparently object to the fact that the library's activities are, gasp, funded by local property taxes. Presumably most people who pay property taxes have no particular problem with this activity or we would hear more from them. Question: what is the "libs" in this handle supposed to mean?
Yves R. Mektin Ragnar_Lothbrok • an hour ago
Oh, and remember "Bosom Buddies," which started the careers of Tom Hanks and Peter Scolari? There's no way that show would be on the air nowadays.
Bambino🇺🇦🌻 Ragnar_Lothbrok • an hour ago
Daniel rotter Ragnar_Lothbrok • an hour ago
You never see this in other areas. For example, you don't see gun control groups invade gun shows where parents take their kids.
BlindBill Daniel rotter • an hour ago
Or … stand outside of churches warning kids to keep away from the youth pastor, priest, or any church affiliated man around ..
DeSantis now wants any parent who takes a child to a drag show to be investigated by DCF, charged with child abuse, and have their parental rights taken away.
Dead kids splattered in a classroom doesn't seem to garner the same freak out as fun time with drag queens
KarenAtFOH Ragnar_Lothbrok • an hour ago
Welcome to trans hate spillover. It will get worse before it gets better.
The Proud Boys, the Three Percenters and the Oath Keepers, among other neo-fascist groups, have been a big problem for quite a while now, and it's only getting worse, rapidly.
Canada has wisely designated the Three Percenters and the Proud Boys, at least, as "organizations designated as terrorists." We have not been so wise in the US.
DaddyRay • an hour ago • edited
They have put a target on our Drag Queen community, a community rich in our history of being on the fight for the rest of us.
Ah the big brave "proud Boys are threatened by little kids and a Drag queen Are your dicks really that small??/
"Investigating?" What exactly needs to be "investigated?" The Proud(ly Idiotic) Boys clearly engaged in trespassing and disturbing the peace. Why aren't they being arrested?
Bob's Your Uncle – BYU • an hour ago
I think literacy is a noble goal and should be a community effort. We need some of those Drag Queens to go into the teaching profession and teach numeracy too.
Kudos to all the Drag Queens who volunteer to further the effort of educating children. The Proud Boys only teach hatred, violence and idiocy. I see no purpose in being a Proud Boy, except to promote narcissistic Nihilism.