Fox News reports:

Charlie Kirk is launching Turning Point Academy – the first of what will be a network of private schools focused on a "classic, pro-American" curriculum and a rejection of critical race theory, "wokeism" and "anti-American ideas."

Kirk, the founder of Turning Point USA, said the first "Turning Point Academy" will be in collaboration with Dream City Christian School – an existing Arizona private K-12 school that will welcome more than 600 students beginning in the fall of 2022.

Kirk said Turning Point Academy will adhere to "bedrock principles," including to "never waver from the truth and to teach self-government and liberty to students" and to reject critical race theory, "wokeism, deconstructionism, queer theory, radical LGBT agendas," anti-American ideas, and more.

Read the full article.

 
Step 1: stop grooming children into xtianity. It's weird and child abuse.
Christian school attire??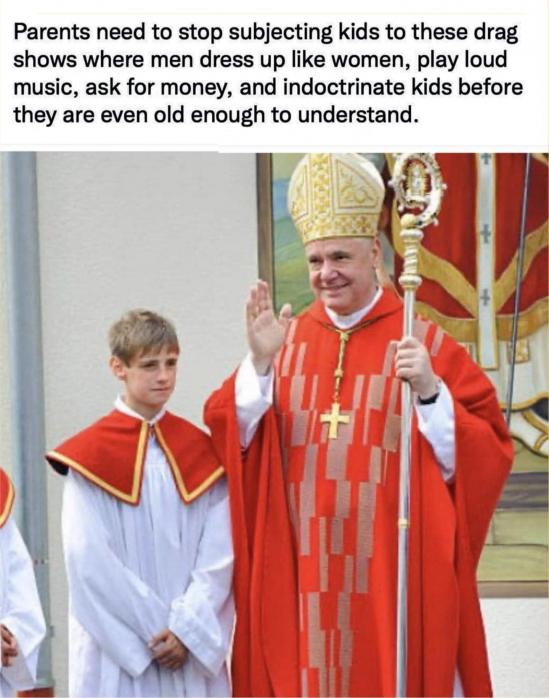 🄿🅁🄸🅇🄰🅃🄾🅁 – 🅃🅁🄸🄿🄻🄴 🅅🄰🅇🅇🄴🄳 justme • 43 minutes ago
The altar boy knows what he needs to protect.
I'm guessing within five years, we will hear about:
— Teachers working unpaid, but with promises that God will provide for them.
— Sexual, physical and mental abuse on teachers and students.
— Funds were stolen, but no one knows how much because their finances were unaudited.
— Children tortured because their parents suspect they are gay.
— Students are learning calculus at age 10 but have the personality of a doorknob.
I agree with all but your last point. I am a high school math teacher and tutor students at the local public library two nights a week. The home-school students and those who attend fundamentalist schools are horrible at math. Many of their "teachers" are uncertified, many without college degrees. Most adults serve as monitors who force the students to sit at computers using automated Christian education software. The math content is repetitive and simplified, with more emphasis on calculation than application. There is no adult on hand to provide in-person explanation or clarification.
The Christian students come to me, sometimes in tears, when they realize that they are hopelessly unprepared for the SAT/ACT math sections, as well as Precalculus and Calculus.
As you know, learning the higher mathematics requires good teachers who know their subject well and have the ability to communicate the material to others.
And don't even get me started on the "Christian" version of science!
DreadPikathulhu • 3 hours ago • edited
As a hiring manager, these are exactly the kind of candidates I'd reject outright because they'd be a poor cultural fit.
Good luck going to Liberty U and that career as a minion to a grifter like Kirk, Turning Point graduates!
Any parent who sends their kid to a school founded by a college dropout will give their child a bleak future.
So, the Christian Right returns to "segregation academies," the issue that launched the movement.