The Washington Post reports:

A Virginia judge on Tuesday dismissed a lawsuit brought by two Republicans that sought to limit how bookstores and public school libraries could distribute two books to minors, closing — at least temporarily — an unusual commercial strategy in what conservatives say is a campaign to protect students. The two books at the heart of the suit are Maia Kobabe's "Gender Queer," a memoir about identifying as nonbinary, and Sarah J. Maas's "A Court of Mist and Fury," a fantasy novel that depicts a dark fairy romance.

The suit, filed in Virginia Beach Circuit Court by Del. Tim Anderson [photo] and congressional candidate Tommy Altman, aimed to prevent the Virginia Beach school system and locations of the private bookseller Barnes & Noble from selling the books to children without first obtaining parental consent. In her order dismissing the lawsuit, Judge Pamela Baskervill concluded that part of Virginia's state law dealing with obscenity is unconstitutional.

Read the full article.

 
It begins with banning books. It ends with banning people.
CunninLinWood, Equines • 18 minutes ago
An example of actual obscenity: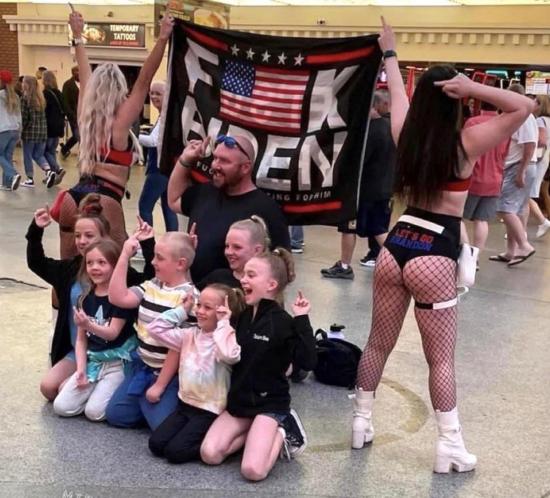 Adam Schmidt CunninLinWood, Equines • 13 minutes ago
Got it… taking kids to see drag queens read story books is obscene but posing with your kids in front of a "Fuck Biden" flag with two women showing their ass while you get your kids to flip the bird… that's good parentin'!
Max-1 🔫+cult(R)=☠️ • 20 minutes ago
I suppose a law mandating browser history review of lawmakers who target minority groups might cause many (R) to break out in cold sweats…
I suppose…
Bigots gonna bigot.
Government does not belong telling private books stores what books they can and cannot sell.
If parents don't want their kids to buy the book, it's their job to police that.
This suit just personifies that both these bigots believe parents aren't capable of raising their own kids.
It's about controlling other people's kids and what they have access to so their own kids are not "tainted" by the real world and knowledge.
SkokieDaddy – wiener dog dad Gustav2 • 17 minutes ago
I've never heard of a child forced to go to a drag queen story hour, but tons of kids were forced to go to church.
But gosh, the right only foams at the mouth about the former.
Hopefully had to pay court costs for Barnes and Noble too.
Judas Peckerwood • 21 minutes ago
I can't believe the court violated his right to free speech by refusing to ban those books!
another_steve • 26 minutes ago
Today, in 2022, it reduces basically to this:
If you get a non-MAGAt judge, justice might prevail.
If you get a MAGAt judge, you're screwed.
They now want to invade the private sector
Rethuglicans always use freedom of speech law to protect religion then get mad when it bites them In the ass.