The Florida Phoenix reports:

In Florida's public schools, the 10th grade statewide English Language Arts assessment has been a crucial exam — kids have to pass it to get a standard high school diploma. But the 2022 spring exam results show that fewer than half of Florida's 10th graders passed the ELA exam, troubling because students will be getting closer to entering the workforce or going to college.

Overall, 49 percent of 10th graders got a passing score of at least 3 on the spring ELA exam. In total, 202,900 10th graders took the exam, according to data from the Florida Department of Education. The school district with the lowest percent of passing ELA scores in 2022 was Jefferson County, located in North Florida, with only 15 percent of 10th graders passing the exam.

Read the full article. A score of 4 or 5 is required to show "proficiency" in reading and writing. Of note, the above-cited Jefferson County, which is majority white, is locally famous for having no traffic signals.

 
Good thing DeSantis is recruiting unqualified vets as teachers. That'll fix the problem!
zhera carswell • 5 minutes ago
"You can't read history books if you can't read!"
Sister_Bertrille carswell • 2 hours ago
The bad teachers with no other options are staying while the good teachers are leaving.
friendlynerd carswell • 2 hours ago
They don't want to fix the problem, having a dumb electorate helps them out.
Galvestonian carswell • 2 hours ago
Naaaaw, he's pushing for more future Republican voters.
This is how you create republican voters
Nic Peterson Bob_Barnes • 2 hours ago
Keep them dumb, poor, pregnant and steeped in hate for anyone that doesn't look like them.
another_steve S_E_P • 2 hours ago
DeVos was a plant of the Religious Right acting through their puppet, Trump. Her goal was to destroy the public education system in America.
Much like the goal of another Trump hack — Louis DeJoy — is ("is," because much to America's peril he's still in place) to destroy the U.S. Postal Service.
Adam Schmidt • 2 hours ago • edited
There hasn't been a Democrat as Governor of Florida in over 20 years… this is entirely on Republicans and demonstrates, as Republican leadership tends to do over and over again, that Republicans cannot lead effectively. Republican led states tend to fail in every category whether it's education, health, employment, average pay, or any other measurement you choose.
crewman • 2 hours ago • edited
DeSantis' America: dumb, obedient (or else!) workers, serving a ruling class. In so many ways, that's what the Confederates fought for.
JustDucky • 2 hours ago • edited
"Half of those kids can still read? Know what'll fix that? Uncertified cops/veterans/veteran's spouses teaching kids!"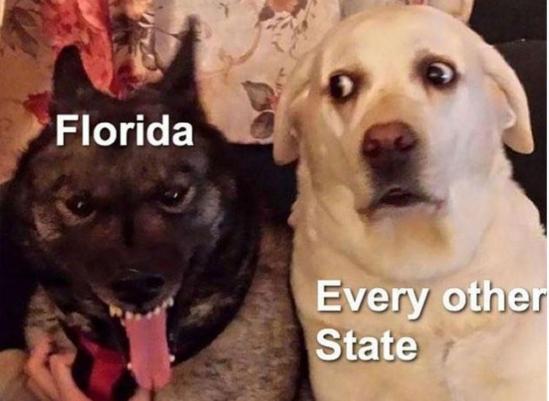 The whole point.
Make them uneducated as possible and they'll be at your beck and call.
Sister_Bertrille Ninja0980 • 2 hours ago
Yes. They won't have the reasoning skills to see through their bullshit.
Palin= electile dysfunction • 2 hours ago
But the drag queens reading to kids are the real problem.
Removing books from the libraries and barring drag queens story time do not help either.