The Miami New Times reports:

Miami-Dade County requires that poll volunteers during elections pledge to be "respectful of all voters" and to "remain nonpartisan," but at least one high-profile volunteer has cast some doubt on his desire to follow those rules.

"That's right, you heard it right, I'm working the poll. Cry some more, liberals. Enjoy your day," said ex-Vice City Proud Boys leader Gabriel Garcia while wearing a "Fuck Biden" hat in a video shared on the "Floridians FIRST" Telegram channel.

Two other men who were at one time affiliated with the Vice City Proud Boys — a Miami-based splinter sect of the group that's now been disavowed by national leadership, according to members of the Villain City Proud Boys — will also be working the polls.

Read the full article.

All three are members of the Miami-Dade Republican Executive Committee. In the video below, Garcia can be heard calling out, "Nancy! Come out and play!" as he stormed the Capitol. Garcia last appeared on JMG when he was among the Proud Boys who blocked reporters from the hospital room of Marco Rubio's canvasser.
Boreal • 4 hours ago • edited
……If a poll worker does, follow the same procedure.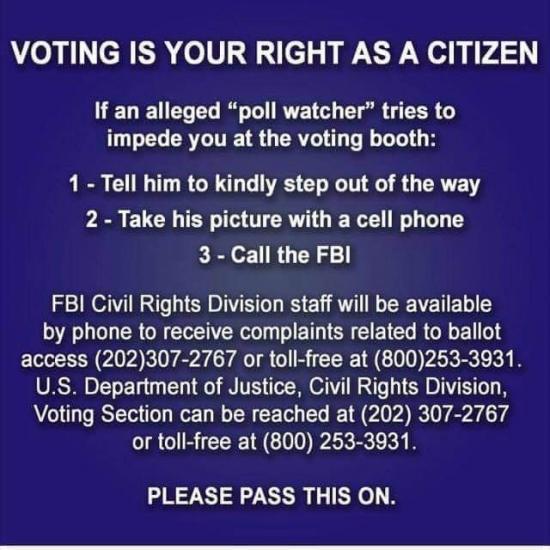 Loading phone numbers on my phone just in case.
Maybe they're just assholes, but maybe they'll learn from exposure that most of the people involved with our elections want them to be handled fairly and truthfully. And that most people accept the results even if they don't get what they wanted. In 2016, I hoped right to the end, that the Electors would do the part of their job that is to prevent someone unworthy from becoming President. They didn't and I cringed for the next 4 years, but I managed not to riot. I'm not saying they should be more like me, but they should.
And if/when he's removed from this position, he'll be the one crying that he's a "victim" for being held responsible for his words.