The Tucson Sun reports:

Two Republicans seeking statewide office are asking a federal judge to block the use of machines to tabulate the votes in Arizona in the 2022 election. The machines are unreliable because they are subject to hacking, contend Kari Lake, a gubernatorial hopeful, and Mark Finchem, who is running for secretary of state.

Neither Lake nor Finchem agreed to be interviewed on the lawsuit. But Lake, in an interview with Trump supporter Mike Lindell, said the litigation is the result of what she believes was a stolen 2020 election. "We know how tragic it was that this election (was) corrupted the way it was here in Arizona," she said. "And we don't want it to happen again."

Read the full article.

Lake last appeared on JMG last month when she stormed out of a 60 Minutes interview after falsely claiming that Capitol rioters are being held in jail without charges.

Lake, who has been endorsed by Trump, has called for imprisoning Arizona election officials.

As I've reported on multiple occasions, Lake's campaign events have featured a cornucopia of cuckoo crackpots, including white supremacists, neo-Nazis, militia members, anti-vaxxers, and QAnon podcasters.

Lake is a former anchor for a local Fox News affiliate.
As long as there is an auditable paper trail the counting machines are fine. If there is any doubt about the machines' reliability ballots can be manually spot checked and recounted. In my county, after the machine counts are done, a random selection of precincts are always manually counted to spot-check the machines' accuracy.
She probably wants to get rid of the machines' efficiency and therefore create more opportunity for choas and alledged evidence of fraud during a slow and laborious hand count.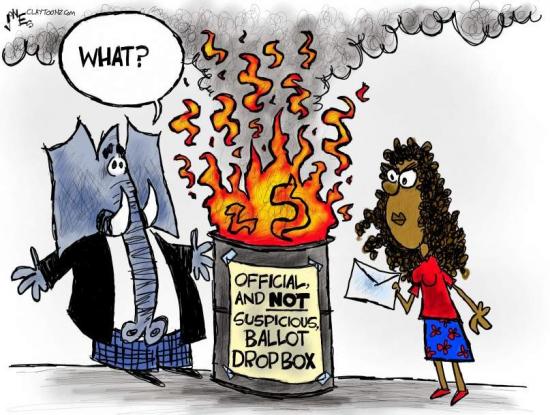 Arizona uses paper ballots already. What she is objecting to is an optical scanner. In NYS we went for paper ballot/optical scanner precisely so if there was any issue, the ballots can be hand counted. She's another clueless Qmoron.
In addition to a GOP secretary of state candidate who disputes 2020's election we also have this guy running for office in Michigan.
Octoberfurst safari • an hour ago
Where are all these lunatics coming from? Were they always out there? Or were they just emboldened by the orange one to come out from under the rocks?