The Washington Post reports:

Police in Idaho arrested 31 people who had face coverings, white-supremacist insignia, shields and an "operations plan" to riot near an LGBTQ Pride event on Saturday afternoon. Police said they were affiliated with Patriot Front, a white-supremacist group whose founder was among those arrested.

Authorities received a tip about a "little army" loading into a U-Haul truck at a hotel Saturday afternoon, said Lee White, the police chief in Coeur d'Alene, Idaho, a city of about 50,000 near the border with Washington. Local and state law enforcement pulled over the truck about 10 minutes later, White said at a news conference.

Many of those arrested were wearing logos representing Patriot Front, which rebranded after one of its members plowed his car into a crowd of people protesting a white-supremacist rally in Charlottesville in 2017, killing Heather Heyer and injuring dozens.

The Associated Press reports:

The men were standing inside the truck wearing khakis, navy blue shirts and beige hats with white balaclavas covering their faces when Coeur d'Alene police stopped the U-Haul and began arresting them on the side of the road.

"They came to riot downtown," Coeur d'Alene Police Chief Lee White said at a news conference. All 31 were charged with conspiracy to riot, a misdemeanor, White said. The men were going through the booking process Saturday afternoon and are scheduled to be arraigned on Monday, he said.

Police led the men, one by one, to the front of patrol cars, took off their masks and then brought them to a police van. The group's manifesto calls for the formation of a white ethnostate in the United States, the Southern Poverty Law Center said.

Right wingers and Trump cultists are flooding social media with their usual claims that Patriot Front is a secret FBI operation to make them look bad.

Patriot Front first appeared on JMG in February 2020 when over 150 members chanted "reclaim America" as they marched through Washington DC.

We heard from them again last summer when they were chased back to their U-Haul by counter-protesters in downtown Philadelphia.

They marched again in Washington DC in December 2021 before crashing January 2022 anti-abortion rallies in Chicago and Washington DC.

 
JoeMyGodMod • an hour ago • edited
As a reminder, it was GOP Idaho state Rep. Heather Scott who first invited a local biker gang to protest the Pride event. The biker gang, in turn, contacted Patriot Front.
Ščŏŧŧ Ċ – 🇺🇦 🕊 JoeMyGod • an hour ago • edited
She's everything you could expect her to be, and more.
In 2015 Scott is reported to have cut wires which were part of the fire-suppression system in her office. Scott believed at the time that the wires were in fact listening devices planted to spy on her. The wire-cutting incident was witnessed by other Idaho House members.
In August 2017, Scott defended white nationalism on her Facebook page. She reportedly said, "The way the media has set this up, the mention of white nationalist, which is no more than a Caucasian who (sic) for the Constitution and making America great again, and confusing it with term, 'white supremacist' which is extreme racism. Therefore, if one is 'guilty' of being white, one is clearly racist."
At the start of the 2017 legislative session, Scott reportedly made a remark to fellow state representative Judy Boyle, upon learning of her appointment to the state legislature's agriculture committee. The reported comment was that female lawmakers obtain ranking committee appointments and other leadership positions only if they "spread their legs." The alleged comment received widespread rebuke from other state lawmakers.
In the 2019 legislative session, Scott sponsored a bill that would have required Idaho's Child Protective Services to mirandize parents before assessing them or their children. After passing the House, the bill was held in committee in the Senate.
In 2019, it was reported that Scott was a member of the Coalition of Western States (COWS), a group founded by Washington state representative Matt Shea that has been accused of involvement in domestic terrorism.
In 2020, she dismissed the severity of the COVID-19 pandemic, claiming the virus was trying to kill the U.S. Constitution and "The lying, Trump-hating media who continues to push global and socialist agendas has told us that there is an emergency."
In February 2021 Scott had a Zoom meeting with constituents about gun rights, the 2021 United States Capitol attack, and free speech.
In April 2021 it was reported that Scott claimed the book To Kill a Mockingbird was an example of critical race theory in schools.
In 2021, Scott sought a copy of the police report accusing fellow state republican Aaron von Ehlinger of rape and asked the victim's legal representative how a person who files a false police report alleging sexual assault could be charged with a crime.
JoeMyGodMod • an hour ago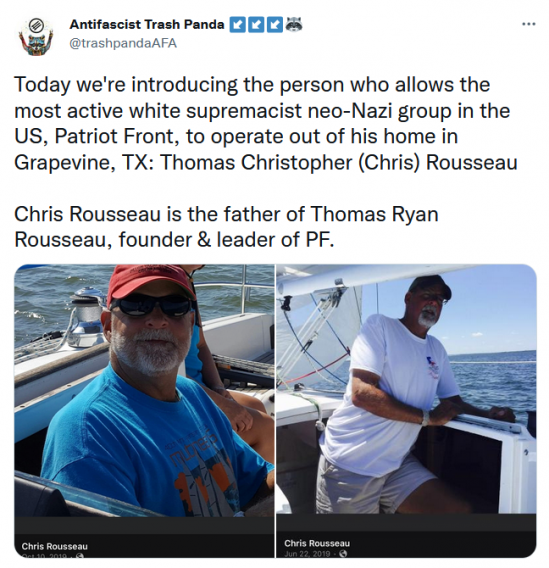 A White supremacist, far-right fascist terrorist attack was averted here. How many won't be caught in the future?