This is another attempt to ruin public education and to instead indoctrinate kids / students with "American Exceptionalism" and conservative right wing views. There is a reason teaching is a profession, it has professional ethics and standards. This is why parents should not be setting curriculums and alternate history. This is why a lot of religious schools are unaccredited, they do not teach legitimate subject material that is required for a child to move to higher education, and to pass basic education tests. This is part of DeathSantis attack on schools and education, this is part of the don't say gay and no CRT/ teaching accurate history including no sexual education while insisting teachers teach that the US was founded to be a Christian nation. If you think this is just a Florida problem remember DeathSantis is the front runner now for the republican nomination for president in 2024, and has raised hundreds of millions of dollars far out fund raising any other republican candidate. He is what the right wing wants for their king. Hugs
Florida Politics reports:

Gov. Ron DeSantis is vowing to "keep plowing forward" with plans to allow military veterans to teach in Florida classrooms, suggesting Wednesday that vets may be better suited to teaching than an education major.

"You give me somebody who has four years of experience as a Devil Dog over somebody who has four years of experience at Shoehorn U and I will take the Marine every day of the week and twice on Sunday," DeSantis said during a press conference in Brevard County.

DeSantis made the comments defending a Senate bill last year that allowed for an alternative pathway to teaching certification for military veterans.

Read the full article.

https://twitter.com/PhilAmmann/status/1554875708878487552?ref_src=twsrc%5Etfw%7Ctwcamp%5Etweetembed%7Ctwterm%5E1554875708878487552%7Ctwgr%5E915b97a772b85ce1c4fb724d3d0c20d278e1b637%7Ctwcon%5Es1_c10&ref_url=https%3A%2F%2Fwww.joemygod.com%2F2022%2F08%2Fdesantis-vows-to-prioritize-hiring-enlisted-military-veterans-as-teachers-over-those-with-education-degrees%2F
Dwight Williamson • 2 minutes ago
Just another huge block of voters, teachers, he is turning further against himself. They say if gays are five per cent of the population in Florida and they turn out , they can decide the election against Ron. Let's all take him down
russian warship go fucck yrslf • 4 minutes ago
The Yale history grad who taught at a prep school in Georgia has thoughts on degrees
Neat
David Brian Holt • an hour ago
Keep in mind that Ron Desantis graduated from both Harvard Law and Yale. His children certainly won't be taught by ill-equipped veterans rather than qualified school teachers.
This asshole went to Harvard. He knows active duty military can't and shouldn't teach Algebra or "Where The Red Fern Grows." The point is to break public teachers unions and bleed public school money into the private sector. His "golly-shucks" populism is as cynical as the greed behind it is evil. He must really think his supporters are idiots. Or, at least, he's counting on it.
Gay Fordham Prep Grad BradCav • an hour ago • edited
…and Yale undergrad. He's not stupid, notice how of all the red meat GQP issues, the one he won't go near is abortion restrictions,? Last night in KS showed why. I hope he challenges the the biggest loser in the primaries. In the worst case scenario I suppose he'd be better than the orange malignancy, he does not inspire the cult the way Jim Jones Trump does.
Jack Frost David Brian Holt • an hour ago
Correct, he's playing the same game all the Republicans do and just like them, not a single person calls him out on this shit.
No FL Dems goes online to point this fact out, hell not even a Biden admin Dept of Ed mentions it, he's just spewing the same GOP talking points, uncorrected.
A good campaign policy, a horrible policy to implement. Of all the movies I've watched over the decades that have attempted to predict the future, I believe Idiocracy is the most likely to have nailed it.
Bob's Your Uncle – BYU • 15 minutes ago
This is a big reason why DeathSantis is becoming more popular than Trump in certain demographics.
Lazy anti-intellectualism along with religious bigotry, casuistry and sophistry are replacing logic, skepticism and relevance as critical thinking skills. If you own a cell phone then you are smarter than Einstein and the hatedlibs, so why bother reading shit?
I know there are some military vets teaching in schools, so I'm sure he'll have his schools' military vets screened for mental health issues, right? Regardless, what happens if one or more of those military vets who have mild to severe PTSD due to being in combat situs suddenly freaks out because of some loud noise, or children screaming/crying, or the classroom bell going off? What happens if said vet gets triggered and suddenly starts reenacting a traumatizing event? What happens if the vet starts treating the children like POWs?
Steven in TX 🏳️‍🌈 ISOLATION 666 and 999 • 16 minutes ago
What happens when one of them is armed and the above mentioned flashback occurs?
Phew! Who knew you didn't need a degree in order to teach. All you have to do is be a military spouse and some other BS random criteria.
Did it occur to him veterans might not want crappy low paying jobs and the shit storms around teaching too?
discouragerofhesitancy • an hour ago
Are the parents of school-age kids in FL alright with this?
Everything he does is performance based, one wonders if this was focus group tested.
I am a retired veteran and I plan to go into teaching, which is why I am at a university getting a PhD.
Will these veterans know how to teach different kinds of learners? Would you have veterans do brain surgery? Teachers are professionals. Republicans are determined to dumb down the population and devalue education, and actual qualifications.
Anti-intellectualism is a cornerstone of conservatism
Refugay Sam_Handwich • an hour ago
AKA fascism.
Jack Frost Sam_Handwich • an hour ago
Anti-intellectualism is a cornerstone of conservatism fascism.
These people arent conservatives, they never were. Its been a cover for their real political leanings.
These Rethugs are deliberately trying to destroy public education.
Imagine some enlisted dink, absent any education training, qualifications, experience or certification whatsoever, trying to teach little kids how to read phonetically, or more advanced students history or civics or algebra, or high schoolers literature, chemistry, or physics.
Of course the point isn't that they'll be taught. They won't be. They'll "graduate" not knowing much of anything and thus be ineligible to seek college education.
A bunch of ignorant proles is all they'll be. By design.
What, me worry? BeccaM • an hour ago
I wonder how the parents are going to like it. And this also answers George W Bush's infamous question, "Rarely is the question asked: Is our children learning?"
Max-1 🔫+cult(R)=☠️ • an hour ago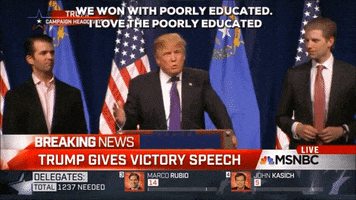 "I'll take the Marine every day of the week and twice on Sunday."
A common plot in many gay porn movies.
I'm a veteran, this is a really stupid idea. Children aren't soldiers, and shouldn't be taught by those whose only qualification is that they were soldiers.
"4. Supremacy of the Military – Even when there are widespread domestic problems, the military is given a disproportionate amount of government funding, and the domestic agenda is neglected. Soldiers and military service are glamorized."
Fourteen Defining
Characteristics Of Fascism
By Dr. Lawrence Britt
"We have a real treat for you today kids. We're going to watch a movie called full Metal Jacket and shows you how to manage the nerds and misfits trying to infiltrate your classroom"
What, me worry? clydesplace • an hour ago
AND make you a manly man! You girls just go to the cafeteria and play Barbies.
The GOP gonna eat that shit up come 2024 and if we aint careful so will a lot of so called "independents" who are just fucking GOP and ashamed to say it out loud. Lets see if the teachers will be able to push back at all on this. He is basically telling them they are useless so they either agree with him that they are ill suited to teach or they dont. Will be telling to see how many stick with desantis after this