This is how much the rabid right gun fetishists will go to prove their love of both racism and guns.   Pudgy boy child who took an illegal gun to a BLM protest with the idea of play a enforcement officer ordering people around until he ended up shooting three people, is their idea man?   This man has no other accomplishments in his life other than arrogantly trying to push people around and then shooting three people, killing two of them.    He is not famous for anything else but that.   Yet that alone makes him the alpha male in the rabid right wing gun circles.    Put the idea of rabid right wing Republican base members carrying guns at polling places in an all new light doesn't it?    Hugs    
"I just wanna introduce Kyle by saying this, we talk a lot about the kind of man you should want be attracted to. Men, your number one goal is to protect your family and to stand strong in the face of opposition from culture and evil. And Kyle Rittenhouse is a man who does that. God bless Kyle Rittenhouse."

That's how Rittenhouse was introduced this weekend at Charlie Kirk's Young Women's Leadership Summit. Rittenhouse then thanked the audience for being "strong women."

Later at the event Rittenhouse claimed to be inspired by Johnny Depp to sue his online detractors and journalists for defamation.

 
Hey girls! Why don't you date a murderer? I'm sure he won't get jealous or stalk you or abuse you.
What murderer would?
🇺🇦 Bayside Lucas Todd20036 • 12 hours ago • edited
Same drama coach…
.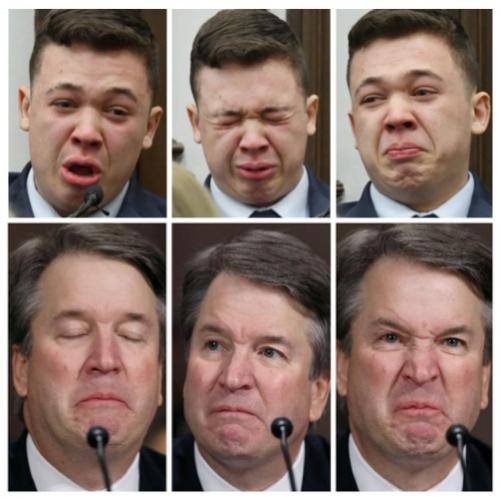 your number one goal is to protect your family
By traveling to another state, and killing people who were of no threat to your family.
Shockingly, MAGAts' taste in men is as ghastly as their taste in pretty much everything else…
Snarkaholic AyJayDee • 13 hours ago
"Strong Women" = can carry huge loads of groceries, laundry, etc. by themselves…so the husband won't have to get his ass off the couch to help.
Performative trollery is all they've got and their new murder-mascot has no fucking clue he'll likely end up dead of an OD someday in a seedy motel room, after they've discarded him.
Sister_Bertrille • 13 hours ago
You know what women really really love? Being told by pathetic little incels whom we should find attractive.