As happens when the Republican elected officials claim that people dressing up in costumes reading to kids in public places with other adults present is child abuse.    The thugs (brownshirts) are out to enforce the Republican party line.  Again the SCOTUS says we need less gun control.    Hugs
 

Reno's NBC News affiliate reports:

A man with a gun turned a children's reading book event into chaos at the Sparks Library Sunday afternoon. During a Drag Queen Storytime event, a group of Proud Boys protested against LGBTQ+ rights outside of the library.

Our News 4 and Fox 11 crew covering the reading event said when the protest came to an end, a man wearing Proud Boys clothing approached the library while carrying a gun, causing everyone, including children, to run into the library for safety.

The Sparks Police Department monitored the protest from a distance, but left soon after. There were no police presence when the man approached the building.

Read the full article. Watch the clip.

 

 
I truly wish the media would stop calling these assholes protesters. They're not protesting. Protesters don't show up armed and in combat gear. This is terrorism. FUCK.
Bambino🇺🇦🌻 Tread • 3 hours ago
Terrorists showing up to terrorize children story time.
They didn't want to wear masks to protect their fellow citizens but they will wear them to hide like the cowards they are
Make gun menacing a federal felony.
So the police didn't question the gunman? Just observed from a distance? Gotcha.
There were no police on the scene when the person with the gun showed up or afterwards. Somebody called the to leave. Sounds prearranged to me.
Boreal • 3 hours ago • edited
Wrong drag queen story hour, incels. The one you want is in a building with a cross on it.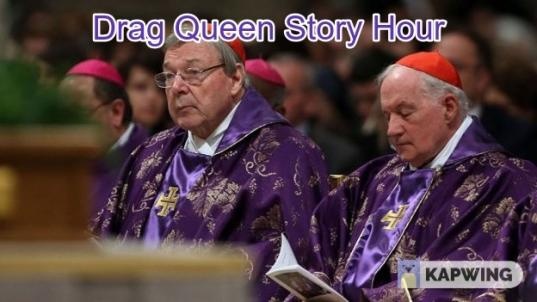 Ščŏŧŧ Ċ – 🇺🇦 🕊 Sister_Bertrille • 3 hours ago
Well, they have no obligation to protect or serve, according to SCOTUS rulings, so I'll have to go with Protection Theater.
Like TSA, but everywhere.
Seeing a guy wearing a dress is WAY worse than having a gun pointed at you. Got it.
But if some drag queens show up at Thomas' house to protest with a book reading, you better believe police won't be watching from a distance.
What, me worry? • 3 hours ago • edited
Just fuck these assholes. THEY are the ones who are endangering the children. Looks like the Sparks police force needs a good weeding out, too.
white nationalists don't target the LGBTQ community because they see it as "weak or powerless."
"It is targeted because that community has brought inclusion into America, It has opened the space around equity and what it means to be an America that moves forward together across lines of difference. That is what frightens the Patriot Front, Proud Boys and other racist bigoted alt-right organizations.